Mohammad Rafi - A Great Contribution Of Lahore To The Music World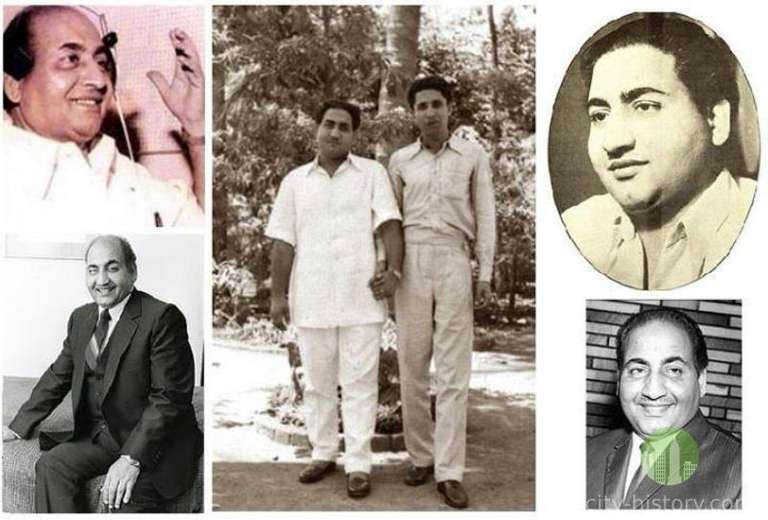 Mohammad Rafi, was one such great contribution of Lahore to India and the rest of the world. 
Born 24 December  1924, in a village near Amritsar,  his father shifted to Lahore and opened up a men's salon in Noor Mohalla, Bhatti Gate in the 1920s. For a couple of years, he was shaving the beards and cutting and dressing the hair of Lahorias. He kept enjoying even this profession thoroughly. He was not earning much money, but whatever he earned was more than enough to keep his soul satisfied and happy.
Rafi's voice was recognized by Ahmed Hameed [Photo: Standing With M. Rafi], his elder brother's friend, who advised him to move to Bombay to explore his singing career. Later, Hameed became his brother-in-law. His first public performance was held when he was just 13, at a concert in Lahore under K.L. Saigal.
Jiwan Lal Mattoo of the music department of All India Radio Lahore spotted his musical talent in 1943 and after rigorous audition process, he trained Mohammad Rafi to develop into a folk and country singer. The knowledge, practice and appropriate application of classical music is essential for any singer. Jiwan Lal Mattoo imparted the requisite knowledge of the most commonly used classical Raagas in Punjab's folk music to Mohammad Rafi. In addition to Jiwan Lal Mattoo, Master Inayat Hussain also gave Mohammad Rafi the finer point of folk singing. 
Several movies in Hindi and Punjabi were made in Lahore during Mohammad Rafi's stay in that city, but somehow it did not occur to any of the music directors to feature his velvety voice in a song. The only exception was another genius maestro Shyam Sunder, who gave Mohammad Rafi a Punjabi song to record. This film was "Gul Baloch" made in 1943. However this Punjabi film was poorly made and was not going to be a hit and its songs also sank along with the film.
A great music director Pandit Amar Nath liked Mohammad Rafi's voice, but he had lined up other singers for his songs. Another great music director Master Ghulam Haider liked him too, but he was moving to Bombay. While packing up to leave for Bombay, he whispered in the ears of Mohammad Rafi to join him later on in Bombay. Ghulam Haider left for Bombay in the end of 1943. In his long and wide entourage were included his well known orchestra as well as Lahore's famous film singers like Shamshad Begum, Umrao-Zia-Begum and Noorjehan.
Although Rafi's family was reluctant to send him to Bombay, Hameed managed to convince them and accompanied Rafi to Bombay in 1944. It was here that Rafi learnt classical music from music maestros Ustad Bade Ghulam Ali Khan, Ustad Abdul Wahid Khan, Pandit Jiwanlal Matto, and Firoze Nizami.
On a second call from Master Ghulam Haider, Mohammad Rafi decided to move lock stock and barrel from Lahore to Bombay in 1945. All that he used to earn was mostly spent on entertaining his friends and fans. It should not come as a surprise that Mohammad Rafi had not enough money to buy tickets in economy class for the Frontier Mail to Bombay. On this occasion his long term pampered friends and relatives, including his elder brother, came to his rescue. After an emotional and  tearful send off at Lahore Junction, he dis-embarked in Bombay after two days of monotonous train journey.